Are You in the Know About Social Media Lingo? | Social Joey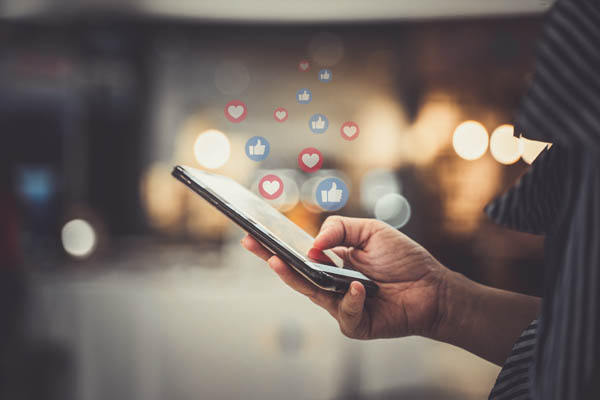 Welcome to January…and a brand-new year! We don't know about you, but we're grateful to put 2020 behind us.
As we step into the new year, there's really no better time than now to step up your marketing game. In today's world, that means digital marketing—capturing the attention of your audience online.
While 2020 had many less-than-pleasant outcomes, it also led more people to spend more time engaging with brands online. That's a newly expanded opportunity for businesses!
To get your A-game on this year, you'll want to have a good understanding of social media marketing and what makes it tick. Let's start with a vocab lesson of sorts. 😉
Like anything, there are a lot of words and phrases that come along with social media marketing. And in many cases, that lingo flies right over our heads!
That's why we're taking a few minutes today to give you a social media marketing lingo lesson.
Getting the Basics Down
If you're new to social media marketing for your business or franchise—or even if you're just ready to take a deeper dive into metrics—there's some basic terminology that's helpful to master:
Facebook account. This is what you have when you're using Facebook for personal purposes. This allows you to interact with friends, groups, and business pages.
Facebook page. When you create an "account" for your business or franchise, you're actually creating a business page. This allows you to provide potential customers and customers with information about your business and your product or service offerings.
Post. This one makes sense! When you "post" or write a message on Facebook, you are creating a post. It's a noun and a verb.
Tweet. When you post on Twitter, you're creating a tweet. Other Twitter lingo plays off that word—for example, when you re-share someone else's tweet, you're retweeting it.
Company update. Posting from your business LinkedIn page? That's a company update.
Business update. And finally, if you're posting on Google My Business, it's a business update.
Impressions. Impressions on social media measure how many times your content is displayed on a screen, regardless of whether someone reacts to it or even clicks on it.
Reach. On the other hand, reach indicates the number of people who actually see your content. This reflects how many unique people your content touches, rather than how many page views, the latter of which can record the same person viewing the content multiple times. You often see reach categorized as "organic reach" or "paid reach," depending on whether you devoted ad spend to the content.
Engagement. Engagement on social media means exactly what it sounds like—it measures how many times people engage with your content. That encompasses liking it, sharing it, commenting on it, or clicking on it.
Building on Your Knowledge
Now that you've mastered the basics, let's delve into some terminology that will be helpful when you're getting a little more hands-on with social media marketing or advertising. (Or when you're letting our team of experts tackle the work, but still want to know what the words mean!)
Business Manager. Facebook Business Manager is your go-to resource for running your franchise's social media marketing, including advertising. It allows you to run and track ads, manage your business page(s) and ad accounts, and even add a marketing partner (that's us) to help manage your business account. You also gain access to analysis, along with analytic and audience tools, that aren't available unless you're using Business Manager.
The Facebook pixel. This one has nothing to do with pixie dust, but it is a little magical! The Facebook pixel is a code placed on your website that collects data that's useful to your business. This data can help you track conversions from ads, build target audiences, and remarket to people who have already visited your website previously.
Ads Manager. Looking to run ads on Facebook or Instagram but don't have Business Manager set up? Ads Manager is where you would begin, and the platform allows you to set up and manage ads, as well as track metrics about how they're performing.
Campaign Manager. If you're operating in a B2B market, you may want to consider running ads on LinkedIn. In that case, you want to begin with Campaign Manager, which helps you create ads, manage your ad spend, and measure the results.
Business verification. In today's world, it's vitally important to not only have a Google My Business listing, but to actively maintain it and update it. Your first step is business verification, which helps to ensure you're the one providing your business updates, not someone who's unaffiliated with your business.
Mastering the Lingo
OK, now that we've stepped through the basics and some intermediate terms that help you understand social media vocabulary, let's dive into some challenging concepts. (Yep, they're a little complex!)
Open Graph tags. Want to have a little more control over what content from your website looks like on Facebook or LinkedIn? You want to work with Open Graph tags. Adding appropriate Open Graph tags to your website doesn't affect what your website looks or feels like, but it does affect what your links look like on social media. You want to ensure you've tagged your page title, a page description and a page image. That will ensure your links pull through that information with your posts on social media, creating posts or company updates that are more pleasing to the eyes.
Twitter Card. Tweeting rather than posting? You want to use Twitter Cards to get the same effect as Open Graph tags. When you (or anyone else) share links from your website once you have Twitter Cards in place, you'll see a more aesthetically pleasing tweet that helps drive users to your website or app.
Attribution type. This one's complicated, y'all! Attribution types are how Facebook contributes conversions to your various ads. At a base level, Facebook uses a 28-day click and 1-day view attribution timeline, or how long after a person interacts with your ad that Facebook will attribute that person's conversion back to your ad. In addition to attribution timelines, attribution types include several attribution methods that can be applied to your conversions.
Attribution methods define what Facebook takes credit for when it comes to conversions. Facebook defaults to a "Last Ad Viewed" Attribution method, which means that no matter what sites a person visits, what he or she clicks on, or what the final click was that moved him or her to conversion, Facebook is going to attribute the conversion to the last Facebook ad that the person viewed.
Facebook also features attribution types like even credit, last click, first touch, and several other time decay-based options. Ultimately, when you are evaluating the effectiveness of your Facebook ads, Facebook gives you a ton of flexibility to determine the return on your ads and allows you to see how those ads have been effective at various stages, and timelines throughout the sales funnel.
Attribution window. When you're looking to demonstrate the ROI of your Facebook or Instagram advertising efforts, it can be helpful to look at an ad's performance over a certain time frame. You can adjust that by changing your attribution window, which is a defined period of time in which a click or impression is counted toward a campaign's metrics. Facebook allows you to adjust your attribution window to one day, seven days, or 28 days, and what you choose may vary depending on how quickly your sales process usually progresses.
API. API stands for "application programming interface." Let's break it down in simpler terms, though. An API is a system that allows one program to interact with a separate software component—or website. When you hear this term in reference to social media, it's usually because you're partnering with a marketing vendor like our Social Joey team. The API we have allows us to interface with social media networks and publish content on your behalf on their sites.
Overwhelmed by the lingo? No worries—we can take care of the heavy lifting! Give us a call today to let us go to work for your business or franchise.