Dear Santa, Our Business Wants a Better Social Media Presence... | Social Joey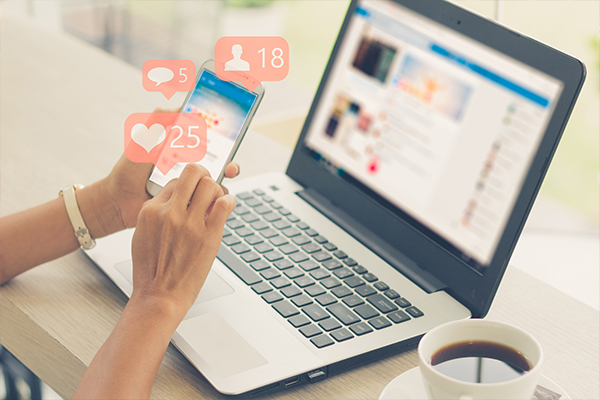 Whether you're just starting your own small business or you've been running a franchise for a while, it's important to think about how you see your business growing in the new year. One key thing to factor in? Your social media presence.
Our team at Social Joey doesn't want your business getting lost in the mix when it comes to social media, which is why we are sharing some ways your business can engage its audience and make its presence known in the new year!
Make Your Business Shine
Are you ready to give your social media a boost in 2019?
While it might seem like every business is using social media these days, only around 66% are actually advertising their business online. Is that not crazy? If you aren't actively using social media for your business, you're missing the mark!
So if one of your goals for 2019 (or one of your wishes for Santa this year) is to improve your social media presence, there are some steps you can take:
You've Gotta Be Present
There's no way to ignore the advantage being on social media can bring to your business in today's world of instant gratification!
But you can't just create a profile on a social media platform and be done. It's kinda like trimming a tree. You can't just put the tree up and be finished—you've got to keep adding to it, trimming the tree with garland or lights, ornaments, a tree topper, and maybe even a popcorn strand or two.
It's the same on social media. You build your profile carefully, fleshing it out with important information that your potential customers and customers might need or want. Then from there, you continually build on it, regularly updating as needed and posting content that's useful, helpful and relevant for your audience!
Consider the Platform
Facebook, Twitter, LinkedIn…oh my! With all the social media platforms out there, how are you supposed to know which ones your business needs?
Should you just be on one platform, two of them—or even all of the social media platforms available?
Well, first things first, don't create a social media account for your business on a platform just to join the cool kids. Really take time to consider your audience personas, who and what they like, and where they're most likely to be when they're online.
You want to make sure you choose the social network or networks that your target audience uses the most. You want to put your information out there in front of your potential customers—meeting them right where they are.
Spend time investing in the social media platforms you choose, rather than trying to be everywhere. This is a case where quality over quantity is absolutely true.
Know Your Why
In order to create successful social media marketing content and to be able to prove the ROI of that content, you need to know what you're doing there in the first place. Ask yourself these questions:
Why are people going to visit your company's social media page and not a competitor?
How well is your customer service interacting with your audience?
Are you reaching out to customers in a timely manner?
Are you generating leads?
How engaged are you, as well as how engaged is your target audience?
Once you know the answers to these questions, you'll be able to better define areas of improvement and targeting to ensure your content is hitting the mark.
Goals Are a Must
Close your eyes. Take a deep breath. Envision your goal. Now, aim and fire!
A goal for your social media marketing strategy is great. But there's a saying that a goal without a plan is just a wish.
Once you know what you want to achieve by being on social media, it's time to come up with an actionable plan to make that happen.
A social media content calendar is a good place to begin. The key to successful posting on social media is to post consistently and with purpose.
A calendar allows you to plot out important holidays, events, sales and other things you want to draw attention to. You can also scope out the frequency and timing of your postings to ensure you're maintaining a consistent touchpoint with your customers.
When creating your content calendar, keep your specific audience on a given platform in mind. Are they looking for tangible advice and tips about a given topic? Do they engage most with funny memes, infographics, videos and other images? Knowing what they like most will help you lay out future content.
The content you create should add value to your audience's life and get them coming back for more! In the end, you want your target audience to look to your business as the expert in your industry and the place they'll turn when they need your services or product.
What Have You Done for Me Lately?
We mentioned above that regularly posting is important, but it's so absolutely necessary that we're talking about it some more!
To effectively use social media for your business or franchise, you have to keep posting. You want to make sure you are creating content on a consistent basis.
Once you've built an audience on the social media platforms of your choosing, you want to make sure you remain in front of them. If you're posting consistently, your audience is going to make it a habit to stop by your social media page to see what you've shared lately.
However, if you all of a sudden go missing, you can easily lose your target audience's trust and their attention, which can hinder your business. You want to remain at the top of their mind, after all!
Asking Santa for help with your social media presence? Our team at Social Joey is ready to help make your marketing hop! Let us get to work for you.