Franchise Marketing Lessons: Christmas Movie-Style | Social Joey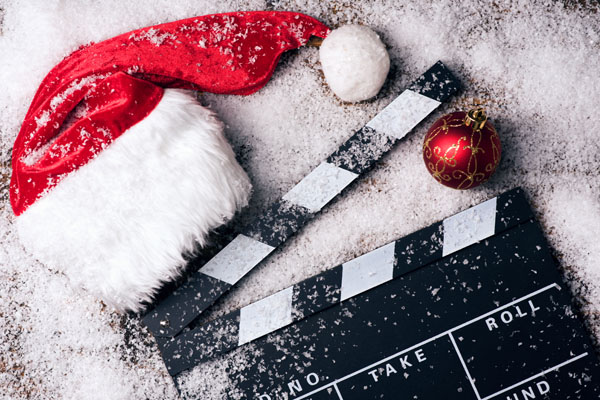 If you're reading this, it's Dec. 1 or later. What does that mean? It means it's prime-time holiday movie-watching time!
Let's be real, though: Some of us Hallmark Channel aficionados have been watching holiday movies for months now. Whether that perfectly describes you or you're just now queueing up the seasonal movie selections, we declare that the festive season is officially here.
Why are we writing about holiday movies on a marketing blog? Well, we'd like to suggest that you take a look at some popular seasonal movies with your "marketing" glasses on—because they're packed with lessons your franchise can put into action!
Read on as we shine a light on the topic.
A Christmas Story
Whether you've ever seen this Christmas classic or not, you are likely familiar with its key scene!
Ralphie and friends are hanging around outside in the frigid cold. One friend, Flick, takes a "triple dog dare" and licks the flagpole, which of course has terrible repercussions.
Besides teaching us not to stick our tongues on a frozen flagpole, what else does this movie teach us?
Lesson: Don't do something just because everyone else is doing it—or because someone dares you!
When you're marketing your franchise, you want to go your own way. Don't follow a trend because it's trending; follow through on new methods of marketing when they show they're effective in reaching your audience.
The Nightmare Before Christmas
In 1993's Christmas/Halloween classic, Jack Skellington tries to transform Christmas into a Halloween-like holiday.
When the people of Halloween Town take over Christmas, chaos and unhappiness reign! People want to celebrate Christmas and not Halloween.
Eventually, Jack realizes his mistake and tries to make it right.
Lesson: Know your target audience and give your customers and potential customers what they're looking for.
If your audience wants to "throw snowballs, not heads," it's important to provide what they need, not what you want them to have.
Elf
Does anyone love Christmas more than Buddy the Elf? He lives and breathes the holiday!
During every part of his day—and throughout the movie—he's spreading the joy and being somewhat of a walking, talking "brand influencer" for Christmas.
Lesson: Let your brand shine through!
Just like the Christmas "brand" is well-established and communicated, make sure yours is clear and evident in the content you create and what you post.
A Christmas Carol
Nearly everybody knows this Christmas classic! Ba humbug!
In this movie, crotchety old Scrooge loves money and hates Christmas. Four ghosts come through in different scenes to spook Scrooge into seeing the error of his ways. In the end, he finally does—and turns into a changed man (or duck, depending on whether you're watching the Disney version).
Lesson: Consistency and frequency matter.
Consistency matters, and so does providing your audience with multiple marketing touchpoints, or in Scrooge's case, ghosts. In most cases, you'll need to touch base or share information with a potential customer multiple times before the sale is made.
Create a consistent schedule and keep posting and producing content. This will help your marketing message really stick!
Rudolph the Red-Nosed Reindeer
"Rudolph the red-nosed reindeer has a very shiny nose…" It's sticking in your head now, isn't it?
Rudolph had a very shiny red nose that set him apart from his peers. While he was made fun of for his nose, it ended up truly helping him stand out among the rest in a good way.
Lesson: Shine a light on what makes your brand different.
To grab market share and steer people toward buying your product or service, your franchise needs to establish what sets you apart. What makes you different?
Your content shouldn't all focus on your franchise, when you are talking about your business, your posts should talk up your shiny, red nose.
Customers are much more likely to buy from businesses that have a "face," and you give your brand a face by sharing what makes you special and unique.
The Polar Express
This beautiful Christmas story brings us joy—and more than a few tears, too. As the story winds its way through, we learn about a young boy traveling on a magic train to the North Pole.
He travels back home after meeting Santa with a bell from a sleigh, and we learn on Christmas morning that only those who believe can hear the bells.
Lesson: Tailor your marketing message to a specific audience.
If you're trying to share your posts and other content across too broad of an audience, you'll likely reach a fair share of "non-believers," who simply can't hear the bells. Instead, carefully target the specific audience you know needs your service or product.
Once you've nailed down your target audience and used advertising demographic targeting to ensure they're getting the message, make your content hyperlocal. This extra touch provides your audience with information that's super-relevant to your community, making it evident you live and work there!
National Lampoon's Christmas Vacation
It's safe to say that the Griswold family is quite a mess! But honestly, there's a little Griswold in all of us.
In this Christmas movie, Clark is determined to create the most absolutely perfect, flawless Christmas for his family. And of course, in his pursuit of perfection, chaos breaks loose.
Lesson: Aim for slightly-less-than-perfect.
It's all too easy to get stuck in a never-ending cycle of aiming for perfection. But that cycle can be paralyzing.
It's far more important in marketing to be consistent and persistent, not to ensure every single post or blog is a home run. That's not to say you shouldn't want them to be a hit—just that you shouldn't devote hour upon hour at reworking content to get it to perfect.
Create something lovely and lovable—and then cue it up to publish. That's enough, and you can always revise later or revisit a topic based on new information or insights.
Our crew of Hallmark-watching Christmas movie-lovers is ready to put these marketing lessons into action for your franchise! Get in touch today so we can get to work on your plans for 2021.