Hop to It! Creating a Social Media Calendar for 2019 You're Proud Of | Social Joey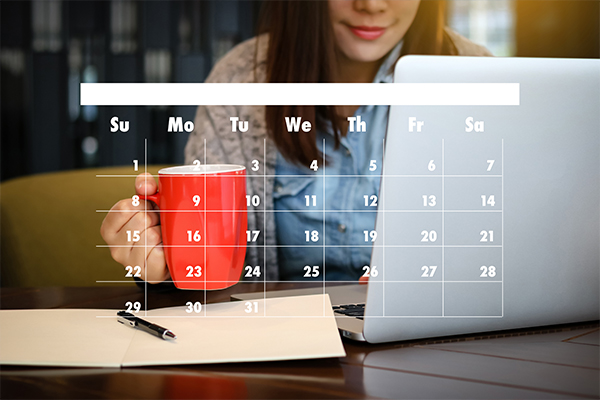 Hey there, 2019! There is nothing like a fresh start to a new year. People are focused on renewal everywhere you look—diets, exercise, clothes, etc. But what's ahead for your business or franchise in 2019?
Our team at Social Joey wants to go along for the ride, and we're sharing some secrets about how to start filling your company's social media calendar for the new year. Let's dive right in!
Nail Down Your Goals
What are your business or organization goals for 2019? Your marketing messaging and social media content should vary depending on what your specific goals and needs are.
Beyond your overall organizational goals, what specific objectives do you have in place for your social media pages? Common goals for social media include:
Finding new potential leads
Boosting your brand's engagement with your target audience
Creating brand awareness
Driving people to your website
Increasing revenue
Improving customer service
Once you know your goals, you'll be able to see the "big picture" and determine what type of content (and what platforms) will help get you there.
Whatever type of content and strategy you determine, stay true to yourself as a brand. You'd never want to be a sellout just to get the likes, shares or comments for just one campaign. Each campaign should be a stepping stone to aid in the long-term vision you have for your brand.
Audit Your Existing Content
When was the last time you put your company through a social media audit? An audit can help tell you what is—and what is not—working within your social media strategy.
Take a look at back at analytics for your social media pages for the last six months or a year. Which posts received the most engagement or impressions? What posts fell short of reaching your target audience? What totally missed the mark?
You want to make sure you learn from the mistakes of your posting past to help ensure the content you're posting in 2019 goes as close to viral as possible.
It also doesn't hurt to do a quick sweep of the content and imagery on your page to make sure nothing is out of date or no longer applicable:
Your Facebook cover photo still promoting your Christmas offer?
Your "About Us" section doesn't mention your new service or new CEO?
Previous social media coordinator made a few "compromising" remarks on the page before he left?
Take the time now to do an early "spring cleaning" of your pages.
Mix Things Up
For businesses posting on social media, consistency is key. You want to provide your audience with consistent touch points and fresh content—and eventually they'll come to expect it.
But while it's important to be consistent about posting, you want to mix things up in the actual content you're posting. Everyone interacts with content differently, so you want to include a variety of content types, including:
Case studies
Checklists
Curated articles
Images, memes and GIFs
Infographics
Interviews
Videos
Live videos
When creating your social media content, incorporate a blend of content that's promotional in nature (with CTAs that push to your services or products—soft sell or hard sell—totally depends on your brand voicing), some content that's specific to your location, and some content that's curated from outside resources yet relevant to your industry and audience. Following the algorithm of the platforms helps to determine and define your strategy a little more, allowing you some guidelines for what is expected of you as a contributor to that social platform.
While you likely have a persona in mind for your marketing campaigns, it's always important to remember that everyone is different, even when we're similar in some ways.
Yes, people who have the same family structure, similar age or income bracket or purchasing habits will most likely be in the same stream in which you're casting your net, but by providing a full spectrum of content that appeals to the sensibilities, sense of humor or passions of a wider range of folks, you're more likely to hit the mark in some way with more members of your audience.
Celebrate the Holidays and the Fun Days!
When planning out your social media content for the year, you want to make sure you balance out educational or informative content in your lineup with some really fun content. One of the best ways to find interesting and fun content is by checking out the calendars that include both national and quirky holidays!
Weird holidays can be a great way to bring entertainment to your customers, while also linking to your company's brand and mission. When you find all the national and wacky holidays that can relate to your brand, go ahead and mark them on your social media calendar so that you know when to create a post about a holiday.
Find a Helping Hand
Whether you have your social media calendar all scoped out or you need to put a marketing plan into action, it can feel overwhelming trying to get it all done. That's where our team comes in!
Our team at Social Joey takes care of the posting for you. While you help us determine the initial strategy by sharing your goals and information about your audience, we take care of finding the content, creating engaging, insightful posts that your audience will want to interact with, and scheduling the content to go out consistently.
Your plate is full. Let us take this off your to-do list, freeing you up to take care of other pressing business for your franchise or organization!
Don't miss another opportunity to post and get your brand out to the appropriate target audience. Our team is here to help establish you online as the expert in your field—and grow your business.
Need help putting your social media and business goals into action for 2019? We are here to help! Contact the team at Social Joey today so that we can get your social media calendar hopping in the new year.