Let's Talk Imagery | Social Joey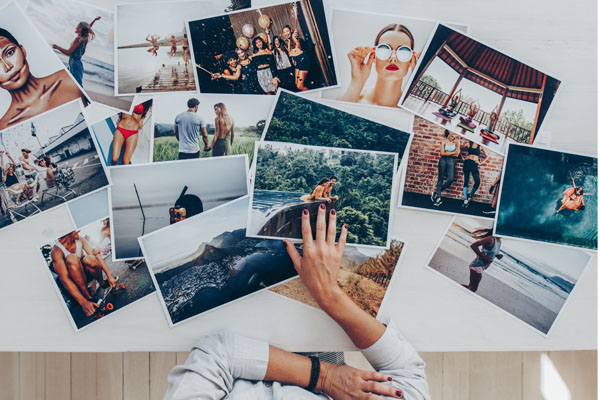 We talk a lot about words. That's probably pretty natural for a social media marketing company, right?
But when it comes to an effective marketing message, your images can be every bit as important as your words. They don't say that a "picture's worth a thousand words" for nothing, after all!
That's why we wanted to devote this blog to pointers on how you can ensure your imagery is hitting the mark. Read on as our Social Joey team gives you the scoop.
Why Imagery Matters
First things first, what's the big deal about images? Well, images are important for several reasons. But perhaps most importantly, images capture reader attention.
On average, you have about eight seconds to captivate your audience before they turn to something else. Images can help you do that:
Research shows that we remember 65% of what we see compared with 10% of what we hear or read. That's a big difference.

It takes 10 seconds to process written text in the brain, as compared with 100 milliseconds to do the same for an image.

Social media posts with images receive double the engagement on Facebook and an astounding 150% more retweets on Twitter than tweets without images.

The right images can help drive sales. More than 65% of consumers say the quality of photos on a business website is "very important" when choosing or buying products.
Why Now's a Good Time to Audit Your Imagery
In our last blog, we touched on the rise of e-commerce—and how it's increased exponentially in 2020 during the pandemic.
As high as our online activity has already been this year, it's about to go even higher. E-commerce and online sales skyrocket during the last two months of the year in any year, as holiday shoppers hit the web.
But in 2020, when shoppers are already staying at home more and making more purchases online, this year's holiday shopping season will likely be an online extravaganza.
Is your business ready? To ensure your website and other content are up to par by the time we hit Black Friday and Small Business Saturday now's a great time to pause and take a thoughtful look through the images you're pairing with written content.
If you have no idea where to begin, that's OK. We're about to fill you in!
How to Conduct an Imagery Audit
While the word "audit" can seem imposing, it doesn't have to be overwhelming. Put simply, it means to review what's there and decide what to change.
When it comes to an imagery audit, you want to thoughtfully consider the imagery you have on your website, in your social media content, in your ads, and any other marketing or branding capacity.
This checklist can help guide you through the process:
Look at Branding
You most likely have a brand guide that outlines how your logos should be used and other specifics. Your first step when auditing your imagery is to review all images to ensure they adhere to your branding guidelines.
If you have an image that contains an old logo or that uses your logo incorrectly, now's a good time to change it out.
What you're looking for here is consistency. Just like you want your written content to maintain brand consistency, you want your images to clearly portray your brand as well.
Consider Voice & Tone
We've talked before about voice and tone—and their role in your content. In our past blog, we were talking about these two factors in terms of written content.
But your imagery also has a voice and tone. So, let's break down the basics again.
Your voice is your brand's character, your personality. It stays the same across all content.

Your tone, on the other hand, is an inflection of your voice. It changes depending on the specific message you're sharing and the audience you're targeting.
Both are important to consider when you're reviewing your imagery. Determine first whether your images fit within your brand's personality (aka your voice), then decide whether they're appropriately used on a given platform (aka your tone).
Examine Color Scheme
One other important factor to consider when reviewing photos is the colors that are prominent in the images.
Colors and emotions are very tightly linked. You have likely determined as a company what emotions you'd like to elicit from your customers and potential customers.
While your photo library will likely encompass photos including a wide spectrum of colors, pay some attention to how the color scheme on your website and in social media is skewing.
For example, you may want to include photos that have a lot of white space if you're trying to appear modern. If you're trying to tie your brand or service with happiness, you may want more photos inclusive of the color yellow.
Blue is tied with stability, safety, and calm, while red is often used to project confidence or power.
Review the images on your website looking specifically at color. If you find you have a high number of images prominently featuring colors that aren't really representative of the "feel" you're going for, look for alternative images.
Thoughtfully Consider Diversity
The final item on our checklist may be the most significant. Have you reviewed the photos in your content to ensure they're in line with the audience you're seeking?
When you're looking to entice consumers of a broad range of ethnicities, races, and backgrounds, you want to ensure that your imagery is representative of your entire audience.
There are many studies out there about representation and how seeing others who look like you can impact children. But that also is a reality in the consumer journey.
A 2019 Adobe study found that more than 60% of American consumers believe that a brand's diversity is important and affects their perception of the brand and its products or services. Beyond that, a large percentage of people surveyed have also walked away from a brand that was not representing them.
Take a look through your images and ask yourself a few questions.
Are your images over-representing one type of consumer?
Are all your target audiences represented regularly in your imagery?
Could any of your images be considered offensive?
Weed out images where needed and replace with images that provide representation across the board. It can sometimes be difficult to find a good assortment of minority images in stock libraries, so think outside the box and use online resources like Unsplash to expand your image horizons.
If you're ready to make 2021 the year where your marketing shines, we're here and waiting for you! Contact us today to get started.