See Ya Later, 2020. We're Fast-Forwarding to 2021! | Social Joey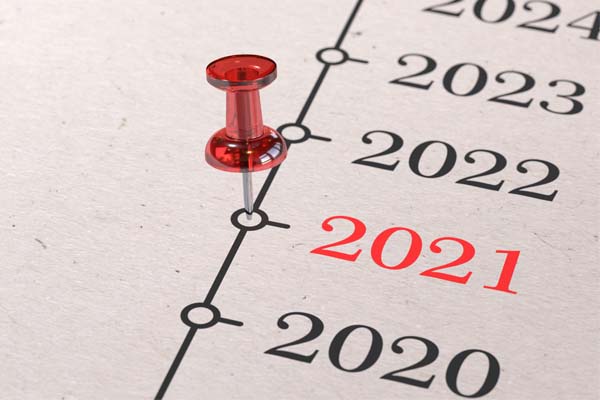 Show of hands, folks…who's had enough of 2020?
If you're like us, you can't think of another year that's simultaneously been both the slowest and the fastest year on record. We will most certainly be glad to see it go!
So, our Social Joey team has made the executive decision: We're saying goodbye to 2020 and leaping ahead to 2021. Or at least we've started to plan for a fresh, new year.
Read on as we take a look ahead to flipping the calendar to January.
Why It's Important to Start Planning Now
Things have changed at such a break-neck pace this year that it's been almost impossible to plan for more than a month at a time. Oh—who's kidding—more than a day or week at a time!
But having a strategy in mind and goals in place is a key part of finding success for your franchise or other small business.
As we head into the last few months of 2020, now's the time to assess where your business stands and what your goals look like. What's working? And more importantly, what's not?
That last part is super important. As business owners, we've been forced to pivot and evolve a lot this year. Many of us have added new services or products to align with changing consumer needs. But if something isn't working, it's time to let it rest.
This quote from Kenichi Ohmae says it best: "Rowing harder doesn't help if the boat is headed in the wrong direction."
So, let's get a jumpstart on the rowing the boat in the right direction!
Your User's Guide to 2021
It's hard enough to plan for now, so how can you plan for later? Well, it helps to take a critical look at what's ahead in your industry…in franchising…in life.
No idea where to even begin? That's OK! We're going to clue you in to some 2021 secrets:
For Franchisors
Even with some jobs returning in mid 2020, the remainder of the year and early 2021 will still see high unemployment due to ongoing uncertainty. There are many great business-savvy professionals still taking refuge from corporate jobs who could become fantastic operators for many franchise systems.
It's a franchisor's duty to seek out these candidates and help them become business owners. That's where you come in!
Early estimates for those seeking to start their own businesses are high, but still probably undercounted. Spending the majority of 2020 in lockdown will yield a new wave of entrepreneurs who may have never even considered becoming a franchisee. But the idea of going back to an office complex, commuting into the city or putting their family's security into the hands of a corporate middle manager will fuel the desire of business ownership.
How do we find these candidates? With all four great Franchise Expos from MFV going virtual this fall, franchisors can potentially meet these folks only online. But where do we attract those who wouldn't sign up for a virtual event, and may not even know what they really need?
Now more than ever, franchisors need to employ social media—and more specifically, targeted social media ads—to efficiently reach these candidates.
Cut down on sales activity just for the sake of sales activity. Focus your resources instead on getting leads that are already prequalified from Facebook, Instagram and LinkedIn.
Stop wasting time and money on unqualified leads from inefficient portals and overpriced Google Ads. There's far too much opportunity and lots of candidates who need your help now.
And remember, the people who lean in to discuss business ownership, decide to make a change and start a business in the latter half of 2020 or in 2021 are winners. Five years from now, they will be your top performing franchisees!
For Franchisees & Small Business Owners
If you're in the driver's seat of your own franchise or small business, 2020 has no doubt left you at the edge of your seat. You've had to make some hard choices about how to steer your business and keep it afloat.
Some of those changes—like the ones that help position you better to meet evolving customer needs—are here to stay. But some of them will hit the road.
What should you be planning for now? Keep on keeping on when it comes to your marketing efforts! Consistency is key, even when times are hard.
You need to keep yourself and your business in front of an ever-growing digital audience online, through both regular posted content and ads. Prioritize your marketing efforts in your 2021 budget.
Many businesses also sought out business loans to help cover essential costs and pay employees during pandemic-related shutdowns this year. If that's you, you'll want to keep those loans on your radar in 2021. Know the details for repayment, including PPP loan forgiveness, as appropriate.
Also take a few minutes as the year winds down to look for opportunities to network in 2021—both within your community and in your industry at large. Those opportunities may come both virtually and in-person once COVID-19 numbers are under control, but it's a good idea to have some ideas for what you'd like to do and plan for those accordingly.
A Look Into the Future of Social Media
So, you know by now that you should be using social media as part of your strategic plans for moving forward into 2021. But what's ahead for social media?
There are three key things you should be on the lookout for, since each can play an important role in your strategy: Facebook Shops, Instagram Shops and loyalty programs.
Facebook and Instagram Shops are going to be a game-changer for product-based businesses who have wanted to sell online but don't want (or aren't able) to pay huge fees for an online store website. Facebook is giving businesses all the tools to sell directly on the Facebook family of apps without having to have the huge expense of a custom website build.
Businesses also have the opportunity to give their loyalty programs a Facebook element. Bringing your loyalty program inside the Facebook app means that your members can seamlessly access information about their membership and rewards—all without leaving the Facebook platform.
There's one more thing to keep an eye on: Instagram Reels. Instagram Reels will hurt TikTok's expected growth.
Just like with every other competitor, Facebook's strategy of "buy it or reinvent it" holds true with TikTok. Instagram already has over 1 billion users worldwide, so having the same functionality as TikTok in an app your friends all already use and with less worry about foreign political actions, Instagram's new Reels has all the signs of hurting TikTok as badly as Stories hurt Snap.
What does that mean for you? With any trend or new social media offering unveiled, it's a good idea to thoughtfully consider how your business could take advantage. If you have a younger audience, Instagram Reels could be your ticket to reaching them, without a ton of extra cost investment.
Looking for a social media marketing partner you can count on for the rest of 2020 and beyond? Let our Social Joey team go to work for you!