What It Would Look Like if Your Social Strategy Was a Playlist | Social Joey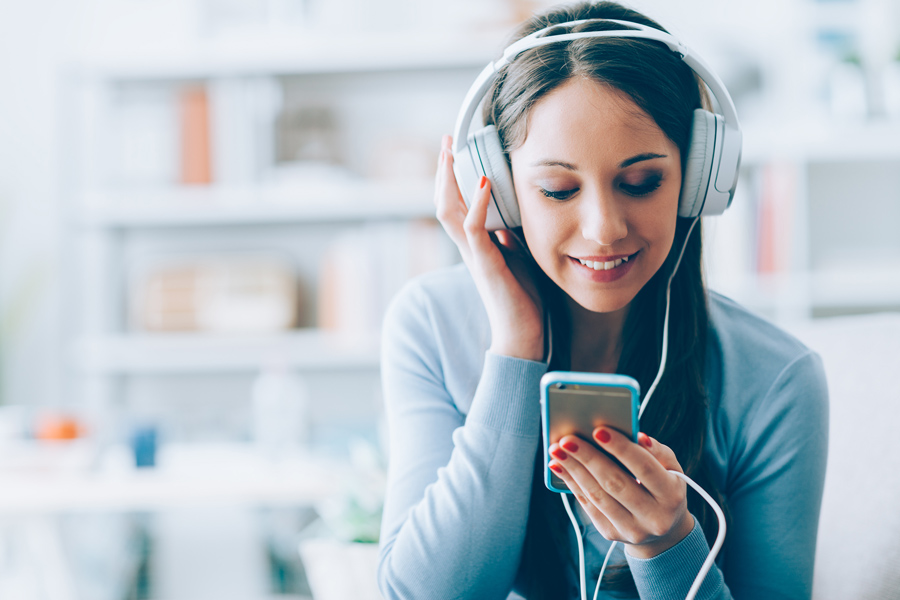 Here at Social Joey, our employees love good music. It is rare to walk through our office and not see people with earbuds in jamming out to Ed Sheeran or Taylor Swift, and when it comes to music and marketing, there are more similarities than you might see at first glance.
Good music contains many different chords, voices and instruments, but, somehow, they all come together and create a perfect harmony. No matter the genre or time period, a good song always has a beat that keeps the pace of the music; it is that regular, consistent and identifiable pattern that we can't help but tap our feet to.
When it comes to your social media strategy, you should have that same consistent beat driving your brand and keeping people tapping along with their mouse (and hopefully tapping a like button or two).
In the spirit of our love for good music, we've pulled together a list of some of our favorite, timeless song titles that should guide you when you are building your social media strategy, so if you want to bring the house down in 2018, listen up.
"You Really Got Me" - The Kinks
People need to know in their bones that you understand them: what is important to them, their spending habits, their career and family goals, their hobbies and their values. Build personas as extensively as possible and then try to create content that will speak directly to the needs and wants of your target audience. This is a guaranteed way to keep them engaging with your brand and have your audience screaming, "You really got me!"
"Just the Way You Are" - Bruno Mars
Great content will inspire people to action, whether that be to engage directly with your brand, or share your content with others. What you have to say should always be of great interest to your target audience but, more importantly, content shouldn't be designed for cheap and fast engagement. Rather, it should be designed and created to build long-term brand identity and loyalty. What happens on the internet stays there forever, so use this opportunity to make sure that everything you post is precisely within the guidelines of how you want your brand to be perceived and you'll build a credible and documented track-record of who and what your brand is. A true fan of your brand is not looking at your page for funny cat videos or memes just because they are popular or funny; they love your brand "cause you're amazing just the way you are."
"You Were Always on My Mind" - Willie Nelson
A continuous presence is necessary to keep your brand in front of your target audience and a steady flow of Facebook content and Facebook ads are the best way to do this. Thanks to Facebook's extensive targeting capabilities, you can target your ideal customer using parameters such as age, gender, interests, purchasing behavior and so much more. Your business should have a monthly content and ad strategy so that you are always in front of your customers. Making sure to change up your copy, design templates, imagery and filters monthly will help your content and ads always feel fresh and new. The "little things you should be doing" is what keeps your customer base saying that "you were always on their minds."
Yep. You can even learn something from The Biebs. Even if your level of customer service is the stuff of legend, the most loyal consumers can fall out of love with your company. Every brand has dealt with a bit of bad press or a complaint at one point in time, but when it comes to complaints on social media specifically, you need to have a plan to deal with it. Especially since 57% of respondents listed "having a negative review unaddressed" as the top reason they would 'break up' with a brand, this is a crucial step in your strategy. A simple strategy of telling your customers "I know I let you down" and "I'm sorry" can lead to a "shot at forgiveness" that might turn a negative review into a shining star of excellent customer service.
Content should always be authentic and honest. It is perfectly fine, and entirely necessary, to have a direct call to action, but in the era of #fakenews, people are becoming more and more skeptical of things they see online that feel "salesy." Your audience should always be able to trust what you have to say and should find value in your content. Their trust in you should "just keep gettin' stronger as the time goes by" and they should always know that your "love for them is true."
"What Goes Around Comes Around" - Justin Timberlake
Your content should reach others simply because the people who follow your accounts should share it. Word of mouth will always be the best form of advertising for any business: an estimated 19% of consumers sales are the result of online and offline conversations. That is because 83% of people completely or somewhat trust the recommendations of friends and family. It's your job to make sure that what they are saying will reflect well on your business. People see what their friends say about you online, and whether you mistreat a customer or provide excellent customer service, you can count on the fact that "what goes around, goes around, comes all the way back around."
Many people don't consider partnering with another brand to increase their reach, but it could be a fantastic way to utilize consumer interests and create brand synergy between like a customer base. If there is another brand that complements yours that will help to further your brand awareness goals, it may be worth pursuing. It could be a way to you to acquire new customers, but it could also allow you to couple your assets with that of a more established brand and solidify your place as a major leader within your industry. Two brands that have "One Love, and One Heart" can both benefit heavily by saying "Let's get together and dominate Twitter" (see @moonpie and @Wendys).
The one thing that stays the same in social media is that it never stays the same. There are constant changes in algorithms, content trends, etc. Think about it: Just a few years ago, the phrase "influencer marketing" wasn't even a thing. You must keep up and be flexible. If you're able to be proactive and stay ahead of the curve, it could save you a lot of time and a lot of money. At the end of the day, Facebook, Twitter, Instagram and Google are always going to be shifting which means your strategy is "just gonna have to be a different man" when these "ch-ch-ch-ch changes" come through.
At the end of your campaign, if you didn't see the results you're looking for, revise it and try again. Be clear about your goals at the beginning of your campaign and make them measurable so that you're able to see precisely what worked and what didn't. There may even be a platform that your business hasn't explored yet. Maybe you're on Facebook, but Google+ is something that you've yet to venture into or you're not sure how to manage an Instagram account. Try it out and see if it's worth it. We all try, but not everything you do on social media is going to go viral and not everything is going to be successful. If a campaign fails, you just have to "Shake It Off" and try again. The important thing is that you "can't stop, won't stop moving" with your strategy until you find the right voicing, substance and placements.
Brand loyalty is the product of consistently excellent service, but it can also be a default pragmatic response for not wanting to search for a new brand. People are busy and it takes time, energy and consideration to find a replacement brand. In fact, most (82%) of satisfied customers will "likely" or "very likely" keep shopping with a company and give it another chance if something goes wrong. If you've done due dilligence with your physical product or service, and then instilled your brand and your values within the consumer via social media, chances are they will know "they're all you need" and you won't be beggin them: "Stay with me."
If you're looking for your social media strategy to "hum a different tune," contact Social Joey today! We believe you CAN always get what you want and our team is here to make it happen.