3 Ways to Shine a Light on Your Business Post-COVID-19 | Social Joey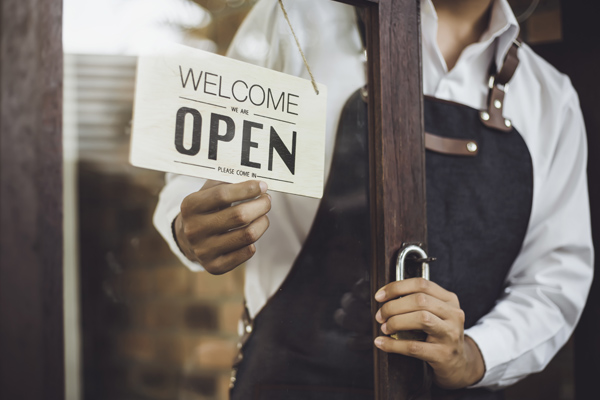 We haven't cleared the hurdles of COVID-19 quite yet, but we're beginning to see the light at the end of the tunnel, so to speak. Businesses and franchises across the country are beginning to reopen, and we're all working from a new playbook.
In our most recent blog, we talked about some lessons we've learned during the COVID-19 pandemic. But for many of us, the challenge now is determining how to put those lessons into action as we begin business again.
Because every business is different and unique—and even individual franchises have individualized challenges and guidelines to follow—there's no definitive one-size-fits-all guide to how to reopen.
But our Social Joey team would like to share some tips on how to get your business up and running and your marketing shining a light that brings customers back in.
A Marketing Remix
In an ideal business world, marketing should be a constant. You need marketing to promote your brand and messaging in the good times…and in the bad.
What should change, though, is your messaging. Any type of significant event—like the COVID-19 pandemic we're currently navigating—calls for some thoughtful consideration of the type of content you're putting in front of your audience and whether it needs to be retooled.
That's why now, as we begin the reopening process, is the time to really dig deep and think about what your messaging should include moving forward. We have three tips to help guide the way:
Keep Content Helpful & Consistent
This is probably the most important tip. Fading away in the midst of challenges, social media-wise, isn't recommended.
And in fact, right now, if you hit the pause button on your social media posting schedule, you're missing out on a prime opportunity. Social media usage has increased significantly in the last few months as people are spending more time in their homes and less time out in public.
There's no indication that will end even as phases of reopening begin. Consumers are often being cautious and limiting their activity outside the home in at least some ways, so there's still ample time spent at home with mobile devices.
During this time, you want to be speaking to your audience, meeting them where they are—online! There has been such an incredible (and chaotic) influx of seemingly contradictory information online in the past few months that most of us are looking for posts that are positive, relevant and useful. It's a phenomenon that has been coined as an "infodemic." So, what's the solution for your business? Keep your content transparent and helpful.
"This reopening has the potential to be the Wild West for placement on social media," says Katie Rae Kugler, Director of Accounts at Social Joey. "You're about to be one of a zillion businesses fighting for air time and attention. Make it count, make it valuable and make it memorable. This is not the time for quantity, so be thoughtful in how to deliver quality content."
That doesn't have to be complicated. It can be as simple as sharing resources that pertain to your industry, such as tips for cleaning that new TV someone purchased at your store or guidance related to best practices for disinfecting and cleaning. This type of content is really a win-win for your business—it engages readers and over time, they come to recognize your business as the expert in your field.
Communicate the Necessary and the Extras
As you begin to reopen, you'll have some specifics you will need to distribute to your customers and potential customers. This will obviously include the basics, like your store's business hours, services being offered, precautions being taken, and guidelines that must be followed, such as wearing masks in the store.
But think bigger, too. Your audience isn't just looking for the basics. Now is as important a time as ever to personalize your business for your customers—making it clear you're part of the community.
"Personalizing messages will be more important than ever," says Jack Monson, Chief Revenue Officer at Social Joey. "We've spent two months with a shared global experience, with everyone watching the same Netflix shows, reading the same memes and laughing at the same absurdities. As we emerge, this global or national 'sameness' will fade fast. Your customers will be attracted to more personal and local content."
This will look different for every business and franchise, but consider this the chance to let your business shine! Here are some ideas:
A simple "thank you" for your employees for their hard work during this unprecedented time
Special promotions for the first responders/essential employees who kept our country running
A big "grand reopening" party or customer event to celebrate being able to come together again, either in person or virtually
Special promotions for parents who have become "homeschool" teachers with schools closed
Messaging that focuses on making your store a destination to get out of the house when it's safe to do so
A focus on products and services to make a great "backyard summer vacation" or "staycation"
Another way to personalize your business for your community? Take and share photos! It's so simple, but so effective.
Most of us want to buy from businesses and people with whom we have a personal connection of some sort. We want to put a face with a name!
When your business has its feet under it again, take creative photos of your employees, your processes, your customers, your back office and any community activities you participate in.
A picture says a thousand words and ultimately that's the goal—to share the message that "We're here, we're back and we're ready to serve you!"
Think of Ways to Position Yourself Moving Forward
This tip bridges the line between product/serving offerings and marketing. But we've just come through a challenging time that required nearly every business to pivot its offerings in some way.
Many of those innovations were well-received by the public—and now that your customers have seen them, they may not want to go back to "normal."
So, consider whether there's an added value for customer experience in continuing forward with some of these strategies and offerings. If so, then spread the word! This is your chance to set yourself apart from your competitors in new and added ways.
"Don't forget what worked well while you couldn't have people in store and figure out what it looks like to incorporate that into your standard procedures," says Mike McDowell, Director of Operations at Social Joey. "For example, a lot of restaurants created 'Family Meal Deals' that turned into the bulk of their revenues during this time. If that was a profitable product, don't take it off the menu.
"Many times, the innovations that come from crisis become core products/features that can push your business forward into a more successful future."
And that is worth spreading the word about!
We're ready to shine a light on your business or franchise! Get in touch with us today to learn how we can help!