Are You Harnessing the Power of FOMO? | Social Joey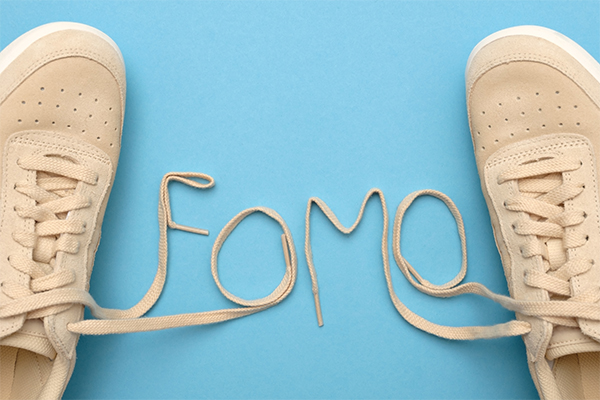 Chances are that by now, especially if you are a millennial, you have at some point experienced FOMO, also known as "Fear of Missing Out."
Not sure what that even means? It's just what it sounds like—it means you see someone else enjoying something you'd like and you don't want to miss out. It's a powerful feeling, and it drives many of our actions.
Now, can you imagine if you created that kind of response from your target audience on social media? Picture this: Your audience would be on high alert every time you went live or posted so that they were sure not to miss out on anything you have to say or any event you were putting on throughout the year!
Our team at Social Joey wants you to understand the force that is FOMO and how you can create a fear of missing out among potential customers in order to grow your business! Are you ready?
Capture FOMO on Social Media
No one ever wants to miss out on something fun. Even when we were growing up and smartphones weren't around, we still didn't want to be that person sitting at home while all our peers were having fun somewhere else.
To use this concept on social media, it is important to make sure you are taking this old concept and giving it a twist by using new trends to get the point across. So, where do we start?
Let's take a look at some steps you can take to include FOMO in your social media marketing strategy:
Create a Sense of Urgency
If people think they have all the time in the world, they are not going to get moving on grabbing that product or service you are offering to them.
However, if you are putting a timestamp on it or you are providing a product that could be sold out in no time, then you are creating a sense of urgency that it may be gone before they are able to grab it, which creates that FOMO feeling among your target audience.
Although the idea behind creating a sense of urgency is something marketers have been using for years, social media changes a few things when it comes to FOMO. You have to think harder about how to strategically offer a product or service that generates that type of urgency.
Therefore, you want to consider adding visuals in order to let your audience know that time is running out for them to obtain a product or service. Once it is gone, then it is gone!
A visual such as a countdown timer or even clever GIFs or other images that illustrate that time is running out can be very powerful. By having your target audience watching the clock dwindled down, you are creating that sense of urgency and fear that they may miss out.
Invite Your Target Audience to Interact With Your Brand
Another way to help create FOMO among your target audience is to have your customers interacting with your brand. What does that mean? Well, it's about true engagement.
Studies have shown that we are more likely to purchase a product or service after reading or hearing positive commentary about that product or service. It's a modern-day version of word of mouth marketing, really.
As a result, as part of your social media campaign, regularly solicit the opinions and thoughts of your customers. This allows them to engage with your brand and feel heard.
Allowing your customers to participate in sharing an experience with a product or service will allow potential customers to see how it can benefit them, too! This will create a sense of FOMO while also boosting brand awareness.
Attract Attention With Exclusivity
Who doesn't want to be a part of a club that only allows a few members?
Remember growing up when the boys had the "No Girls Allowed" sign on the treehouse? It didn't really matter what was going on—it was just the fact the sign was there that made girls want to figure out how to get into the club.
The same is true when creating FOMO through your social media campaign. When you cultivate exclusivity on your social media page, you are basically putting up your "No Girls Allowed" sign, which is going to make people even more eager to join in on the fun!
Now, we aren't actually indicating that you should exclude people who actually want to participate. This suggestion simply means to create a newsletter, email, club or organization that people can sign up for that provides them with unique opportunities.
In addition to creating FOMO, you will also be creating that "special" feeling customers like in knowing they were part of an elite group being offered deals and other benefits.
Therefore, encourage your target audience to join in on your loyalty program that gives them exclusive tips and other information that will help to ensure they don't miss out on products and/or services.
In addition to the specials on products and services, this "exclusive" group can also be in the know about promotional events, such as the launch of a new product or another item that will be offered to them hours before it is offered to the public.
Naturally, people want to be a part of those groups because they want to be a part of something. They want to feel special. And they want to make sure they are not going to be the one to miss out on a product or service everyone is wanting!
Just think about it. How many people were already grabbing for the new iPhone before it even came out? They didn't want to be a part of the group that didn't grab the new smartphone when it first came out.
This is the type of buzz you are wanting to generate on your social media page about your product or service. Harness the power of FOMO for your company or franchise!
Are you ready to create content that no one will want to miss out on? Contact our social media gurus at Social Joey today to start creating FOMO content!