Christmas Presents to Gift Yourself This Year (or for the Marketer in Your Life) | Social Joey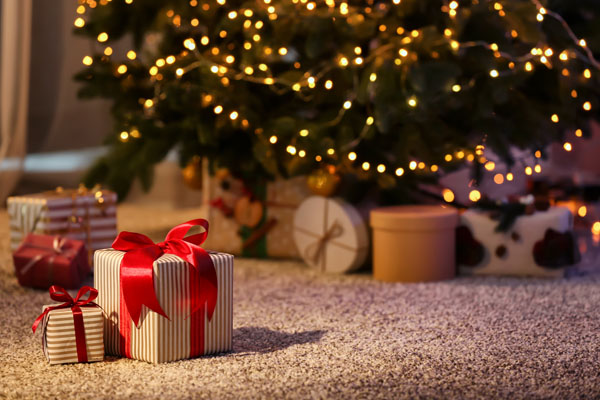 Believe it or not, Christmas is less than a month away! It seems like 2021 began only a week or two ago—certainly not months and months ago.
If you're reading this blog, chances are you're working to set your business up for holiday shopping success. Even if your business or franchise sells a service rather than a product, this is still a crazy, busy time of year.
Your to-do list may feel like it's pages long – and shopping for holiday gifts is probably on that list.
You may have ample ideas for the gifts you're buying for others, and if you heeded the alerts about shipping delays, you may already have even stocked up on presents. But have you thought about treating yourself this holiday season?
Don't worry—we thought about it for you! Even during the season of giving, taking good care of yourself is still a necessity. Self-care, after all, isn't selfish; it's how we avoid being stressed to the max.
Read on for a few ideas about gifts you can buy yourself…or the marketer in your life.
The Gift of Self-Care
OK, what's this self-care we're talking about? And why are we blogging about it? You might have heard the term used to describe trips to the spa, but it's actually much more inclusive than that.
Self-care is exactly what it sounds like: It's anything and everything that helps you care for yourself. It can be as simple as carving out time to move your body more, drinking more water and less soda, or putting on a soft and comfy shirt.
That's where this topic connects with these gift ideas! Self-care doesn't have to be complicated. In fact, the simpler, the better. You simply want to take small actions that benefit your physical, mental, and emotional well-being.
These gifts may be the perfect way to get started:
An Ergonomic Chair Cushion
Most of us spend hours in front of a computer. If you're slouching in a desk chair—or worse, sitting in a chair at the kitchen table—you're setting yourself up for back pain.
(Consider how you're sitting right now. Are you hunched forward toward a screen? We won't tell anyone, but sit up straight!)
Look for a cushion that can be attached to your chair to provide you with greater comfort and stability. Contrary to what you'd think, you aren't looking for a smooshy cushion. You want one that's going to position you in a way that benefits your back.
There are tons of options, but this one from Cushion Lab has been in the news a good bit lately! (And one member of our Social Joey team can personally vouch for it.)
Books for Your TBR Pile
One key element of self-care is finding time for activities that are calming and enjoyable. Reading can help you hit the reset button on your mind, taking you away from whatever is stressing you out.
It doesn't really matter what you read. Obviously, spending time reading the news probably isn't the best idea if you're trying to find your zen, but nearly anything else goes.
Try out some of the selections on our Social Joey reading list, or pick up a book that's clever and engaging while providing you with tips for success. We're looking at you, Everybody Writes!
Tricks of the Trade
If you're looking to truly care for yourself and take stress out of the equation, search out tools that can help you do your work more efficiently. After all, as the saying goes, you want to "work smarter, not harder."
Obviously, these tools will vary depending on your day-to-day work responsibilities—which may even vary from day to day. Look for resources and technologies that simplify processes.
That can be as easy as learning about formulas to use in your Google sheets, keeping you from having to make the same calculations over and over again. Or, in another Google example, if you're tired of having to click into tabs to see the word or character count in a Google doc, download the "Better Word Count" add-on to see the count in a box on the right-hand side of the page!
Something Clever & Comfy
Whether you're still working from home at least part of the time or have a more casual dress code, sometimes the day calls for a comfy T-shirt.
Why not make it one that also makes you smile each time you look at it? Peruse the pages of Etsy to see all kinds of cute designs—there's truly something for everyone.
Here's one for the data-driven type. Here's another for the truth-teller out there.
Our Social Joey team will be sporting this one. And then there's this one that's perfect for that details person in your life!
A Desk Fridge
Ever gotten caught up in your work and forgotten to eat? (Yes; yes, you have.)
Not only is that a recipe for a hangry marketer, but it's also not good for you! When your body isn't properly fueled, you are more likely to feel stressed and to experience headaches and GI issues.
We'd tell you to simply keep some snacks on hand, but we know that can lead to grabbing easy "to-go" items like chips or a candy bar. So, instead, stock up your desk with healthy foods that can help give you an energy boost.
Keep foods like protein bars, single servings of nuts, and whole fruit on hand for easy access. But you can also go a step further and treat yourself with a desk fridge, allowing you to really stock up on healthy items that are perishable.
You might be thinking of the fridges like you see in dorm rooms. Those are OK, if you want to splurge, but you can also find smaller mini desk fridges, like this one, that would allow you tuck away some cut-up fruit or veggies and a little bit of hummus or something similar for easy snacking.
There's one other item you can gift yourself this holiday season—a partnership with Social Joey! Get in touch today to learn how we can help your business find social media marketing success.