How's Your November Social Media Lineup Shaping Up? | Social Joey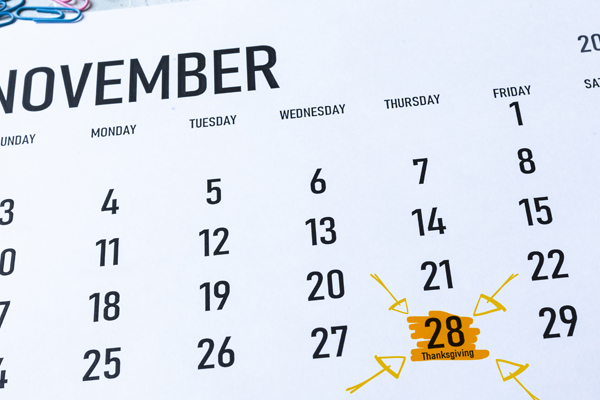 It's beginning to look a lot like Christmas!
OK, so it isn't actually Christmas just yet, but the holidays certainly are right around the corner. And when it comes to creating content and ads to boost your social media presence and ROI, the time is now!
But where do you start? Our Social Joey team has some suggestions.
Let's Fill Up Your Social Media Calendar for November
Do you still have holes in your social media calendar for November? You have come to the right place! We're here to help you create a solid strategy for this first month of the holiday season.
Since November is the month of gratitude and giving, let's take a look at how you can use these two words as starting off points. Explore some inspirational ideas for topics to use within your social media marketing campaign:
Add Thankful Thursday to the Mix
Whether you are posting things your team is grateful for on Thursdays on Facebook, sharing snapshots of your blessings on Instagram or using the hashtag #ThankfulThursday on Twitter, there are many ways your company can express what you are thankful for this month.
Using Thankful Thursday in your social media campaign can create a sense of urgency for your target audience to like, comment and share posts, which can bring more traffic to your business pages, your website and to your business in general!
Be sure to invite your employees and customers/clients to also share what they are thankful for on your page, too! This can be a great way to start conversations and build relationships with new and current clients.
Promote Your Holiday Events
There is a lot going on this time of year—and your company is definitely going to want to be involved!
Therefore, consider using these moments to live broadcast on your social media pages, as well as post photos and share to your employees' social media pages so that current and new customers can see what your company is up to this time of year.
Remember that one important component of a social media strategy that drives engagement is local content. Your customers and potential customers want to see that you're invested in your community, so now's a great opportunity to show them that you are!
Anything & Everything Thanksgiving
There is so much going on over Thanksgiving weekend—Thanksgiving, Black Friday, Small Business Saturday. Spread your joy and messaging related to these days with your audience.
Whether you publish a post to express your gratitude to your employees and customers or use a GIF to help add some fun into your campaign, there are so many opportunities for strong posts, videos and tweets during the Thanksgiving holiday.
In addition, when adding humor and personality to your brand this time of year, you want to make sure you are doing something that can help to resonate with your target audience—and draw in organic traffic, too. Using hashtags can benefit your company and get you trending during the long holiday weekend!
Thanksgiving-related tags to try include:
#HappyThanksgiving
#turkeyday
#Thanksgiving
#ThanksgivingFail
#ThanksgivingFails
#thankfulgratefulblessed
#thanks
#thankyou
#givethanks
#givingthanks
#blessed
#turkeycoma
#turkeylove
#recipes
When it comes to Black Friday, consider taking time early in the month to start discussing a Black Friday giveaway. Everyone is looking for the best deal after Thanksgiving. A giveaway during this time of year can help put your company on the radar.
Food drives and other charity opportunities are other great topics to discuss around this time of year, which can go along with the themes of gratefulness and helping others in need.
If your employees go to a food kitchen, be sure to take photos and post about your day. Your current and future customers will appreciate what you are doing and how you are giving back to the community, so spread the joy!
Remember the Other Holidays
While Thanksgiving is recognized as the official holiday in November, there's plenty of opportunity to celebrate other holidays. In fact, there are a number of off-the-wall holidays you can utilize to your benefit for the month of November.
Have some fun and celebrate these light-hearted and meaningful holidays!
November is Peanut Butter Lovers Month
Nov. 1—Extra Mile Day
Nov. 8—Tongue Twister Day
Nov. 12—Happy Hour Day
Nov. 13—World Kindness Day
Nov. 17—Take a Hike Day
Nov. 22—Go for a Ride Day
No Shave November is something you definitely you want to try to jump on board with if you can, as it gets a lot of traffic around this time of year. Whether you host a contest on your social media platforms for your customers to enter or use your customers as judges for employees you are pinning against one another, don't be afraid to have some fun and get your audience excited!
Plus, No Shave November is a great opportunity to discuss men's health issues, which can be extremely beneficial if your target audience is men or you're in the healthcare space.
Are you in need of fresh, new ideas on how to bring the holidays out in your social media marketing campaign? We can help. Contact us today to get started ASAP!