Marketing-Themed Halloween Costumes for a Spooky, Social Holiday | Social Joey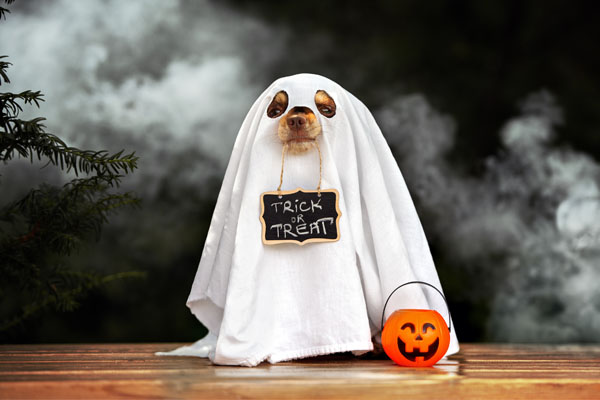 Halloween is right around the corner, and there is so much to love about this unique holiday! Whether you are #TeamCandyCorn (which we are proud members of) or celebrate by watching the scariest movies around, there is so much fun to be had while you get in the Halloween spirit—and this year especially, all signs point to people getting into the spirit big time.
In 2021, consumers' Halloween spending is projected to hit an all-time high of $10.14 billion when you add up all the costs for candy, costumes, and decor—that is up nearly $2 billion from the totals in 2020! So, needless to say, this one is going to be a Halloween to remember.
Given these hefty projections, we think there will be plenty of celebrations in the last half of October, so having a few crafty costumes up your sleeve is always a good idea. Whether your work is dressing up on October 29 to have an extra fun Friday or you want to give marketing a bit of a shoutout on the 31st, these marketing-themed Halloween costumes have us cracking up.
Check out our favorites below (and please send us a photo if you end up using any of them!):
Our Favorite Marketing-Themed Halloween Costumes
A group of social butterflies. Because all social media sites are unique in their niche, they make for a fantastic idea as a group costume! Each person on your team can pick a favorite and go all out for the theme—think a blue outfit with a status update sign for Facebook, a business casual outfit and a resume for LinkedIn, a bird for Twitter, or a recipe card and baked goods for your Pinterest person! If you are going solo, you can print and adhere all the social media site logos to your outfit and don a pair of butterfly wings for the same effect.
A spam email. This one definitely gets into spooky costume territory since no one wants their marketing emails flagged as spam—so dress up at your own risk! Whether you craft some fake spam emails and attach them to an outfit, or go more literal and dress up like a can of Spam for the day, this costume is sure to cause a fright among any marketing team.
A chatbot. Chatbots can be implemented on Facebook messenger and/or your company's website, and serve as an extremely helpful way to route people to the right customer service representative—but it is also a great costume idea! Dressing up as a robot is fun enough, but bonus points if you speak in canned responses to your coworkers all day.
A variation on hashtags. If you are using Twitter or Instagram, having some go-to hashtags is a must for getting your content out into the world. This costume can work in two ways: You can dress up as a hashtag related to your company or brand, or you and a work friend could dress as two hashbrowns and carry on a game of tag throughout the day. Either way, your costume will definitely be noticed!
A mobile app. If you are a snack enthusiast (and really, who isn't?), this might be a great one for you! Instead of literally dressing up as a cell phone, take an appetizer on the go around the office intermittently for a costume that is both a marketing joke and a really good pun. And who doesn't love a costume that incorporates chips and salsa?
An emoji. From Instagram captions to email subject lines, an emoji here and there is a great way to keep your brand copy fresh—and because there are so many emojis out there, there are tons of possibilities. From information desk girl to the fire emoji, pick your favorite and have some fun.
A/B testing. Another costume that works great with a buddy, A/B testing is one that is sure to get some laughs—and like with true A/B Testing, you can get really creative with this one! You could wear the same outfit in two colors, make the same T-shirt with a slightly different subject line or create craft paper call to action buttons that have different phrasing or fonts. To really commit to the theme, conduct an office survey to see which test wins at the end of the day!
The cloud. Where would we be without the cloud, really? If you are planning to go solo, you could dress up as a literal cloud by using cotton balls and printed photos to represent all the things we store. For a group costume, you could start with this same concept but expand into documents, file storage, and apps to represent all the things the cloud can do!
An Instagram or Snapchat filter. While Snapchat originally hit the filter market hard, Instagram has taken over as most people's selfie app of choice—but the iconic dog filter still reigns supreme! Whether you go for an impeccable makeup look, put butterflies in your hair, or go for the classic dog or cat, this one has tons of possibilities.
The Google Work suit. From Google Drive to Docs to Sheets, you likely interact with Google's products on a daily basis at work, which is why this is a great group costume. Everyone can dress as their most-used program, featuring e-mail print-outs for Gmail, a spreadsheet for Sheets, and a lot of copy for Docs.
Your favorite meme. Depending on your brand's tone, memes can be a fun way to add levity to a marketing strategy, so what better way to celebrate them than on Halloween? From Salt Bae to Evil Kermit to Grumpy Cat, there are so many fun possibilities to bring some laughs to your celebration.
A social media graveyard. While we assume the big social media platforms such as Facebook and Twitter are going to be in play for quite a while, we have lost a few social media sites over the years as users' interests have evolved. You can pay homage to the social media sites that once were by printing out the logos for MySpace, Vine, Google+, and Friendster and adhering them to a grey outfit to represent a headstone.
Is it time to take your marketing strategy beyond a costume? If your social media marketing efforts need a breath of fresh air, we can help! Contact our team today, and we can help you stand out all year long.