Put Your Franchisees on the Path to Success With Franchise Marketing | Social Joey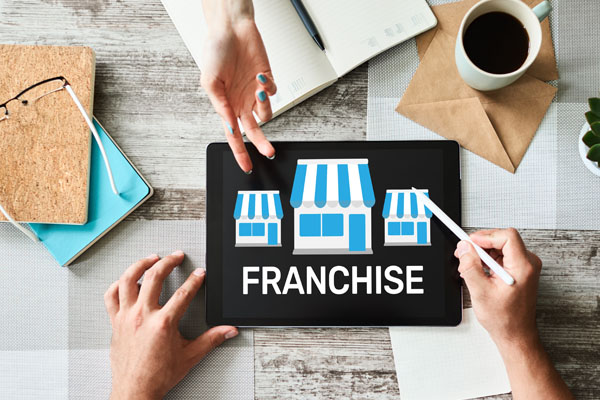 We're going to assume you're not new to the game. Whether you have operated a franchise organization for a long time or have recently begun franchising your small business, you probably already know that marketing is essential.
You can have the best products or services in the world, but if you don't spread the word about what you offer, no one will know.
In today's world, that message gets a little more granular. Most people today spend at least part of every day on social media. That means that having a social media marketing strategy for your business is a must.
That's important as a brand, but it's also important for individual franchises. Your franchisees need to be able to share with their local community the benefits of your company and its expertise.
That's where franchise marketing can come into play. When you're building a relationship with a new franchisee for your organization, you can put that person on a true path to success by handing him or her the keys to a seamless marketing strategy.
That marketing strategy will look different for every company. Depending on your franchise organization's size, footprint, and even financial situation, the scope and involvement of your corporate organization in the marketing plan may differ.
You may plan the entire thing at the corporate level and then have them buy-in as part of their initial or annual investment, or you may simply lay out the "template," so to speak, and have them take the wheel.
Either way, there are two very important messages to relay to your franchisees. First, marketing at the individual franchise location level is a must—and second, that marketing message should jive with (and enhance) the corporate messaging. Read on as we take a deeper dive into the topic!
Franchise Marketing From the Corporate Perspective
When it comes to franchisees and marketing, you may wonder what's in it for you at the franchisor level. Well, that's an easy one!
There's a big reason why you need to include marketing guidelines and parameters in your franchise materials. You've put a lot on the line when establishing your brand.
The last thing you want is for an individual franchise location to come in and wreck your reputation. Sadly, that's all too easy to do with a misplaced message on social media. A posting mishap can have immediate ramifications, and undoing the problem isn't as simple as deleting the message.
That's why providing your franchisees with guidance around marketing is so important. You can help shape their marketing strategy from the get-go, at least when it comes to the essentials.
As we mentioned above, the marketing component of your franchisee support program will vary. You may be providing them with a robust library of resources, including sample posts and content strategy. But in many cases, franchisors provide the bare bones of what's acceptable and what's not.
No matter which end of the scale your business is on, it's important to carefully outline your brand specifics for your franchisees. Provide them with clear guidance on the use of your logo, your company name, and other collateral, such as imagery.
And also provide information about specifics such as brand voice, which is essentially your company's personality. You want the use of these elements to be consistent across the board.
By providing your franchisees with these basics, you are helping guide them toward successful marketing and successful business operations.
Franchise Marketing at the Individual Location Level
Now you know why it's important to govern marketing—at least loosely—from the franchisor level, but how do you relay to franchisees why marketing at the local level is essential? Answering their questions is a good place to begin.
It's likely that your franchisees may have questions about marketing within their communities, why it's important, and how to do it. Here are some answers to three FAQs we've heard:
Why Can't I Just Borrow Content From the Corporate Page?
Many franchisees will probably have a fair enough understanding of marketing basics. You can't operate a business without letting people know you're there. It's that simple.
Some franchisees, though, may wonder why they can't simply lean on corporate marketing efforts to spread the word about their location. That's a fair enough question.
But it also has an easy answer. Marketing at the franchisor level is the ground floor. It builds the foundation upon which many people will develop an opinion on a brand.
When you're trying to carve out a footprint within an individual community, though, you have to go further. You need to build up from the ground floor. That's where local marketing content comes into play.
But there's a bigger reason, too—if you simply steal the content from the corporate page and blast it out across every franchise location's page, you run the risk of being flagged for duplicate content. Since the secret sauce to getting in front of potential customers on social media relies on an algorithm, this is a no-no.
Each franchise location needs its content. The content can have a common theme or messaging, but the crux of it needs to be unique. That's true for social media posts and blogs.
Can I Post Solely About the Product/Service We Offer?
Nope. We wouldn't. While we talked above about how to get your content red-flagged by social media platforms and Google, this is a way to drive readers away.
Quite simply, you need to entertain your audience. Don't use every post to promote your products or services, because that's a bore.
Incorporate a varied mix of content into your social media posts, all to provide your audience with helpful, useful, and relevant information. Blend images, videos, and external resources like interesting articles.
While this might seem counterintuitive, you'll ultimately drive readers to your business for your product or services by proving to be useful to them and becoming the expert on a given topic.
Why Does My Social Media Need "Local" Content?
Oh, this is a big one! We believe firmly that hyperlocal is where it's at. At its most basic, social media is about relationships. You're trying to build a relationship with your audience—one that can be fruitful for your business and the customer.
Like any relationship, a relationship with customers and potential customers relies on trust. You build that trust by establishing yourself and your franchise as a true part of the community.
There are multiple facets to that. You need to get out and involved in the actual community by taking part in local events and sponsoring teams or outreaches as you're able. But you should also simply show you're interested.
That means posting regularly about items of interest in the community, such as events, awards, or community happenings. It also means sharing with the community about the people within your franchise, putting a "face" or two with your business.
Ready to spread the word about your franchise organization? We can help create a corporate social media marketing strategy—and build out marketing plans for your individual locations, too! Reach out to us today to get started.