Small Ways to Make Your Customers' Days | Social Joey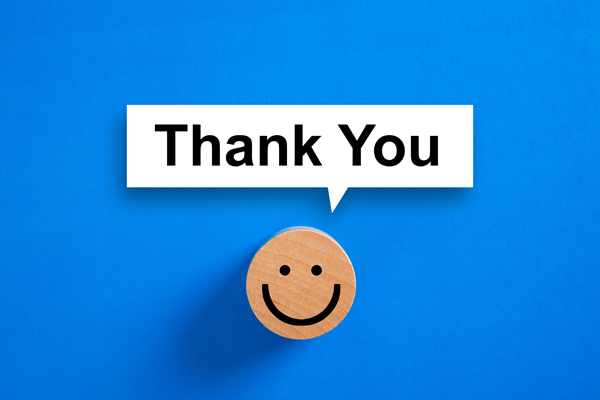 When you think about how your business has become successful, who do you think of? You likely have a major hand in that, as do your key employees and shareholders—but it is important to remember that the people who trust in your goods or services do, too! Customers are integral to any type of business, and keeping your customers happy and engaged is one of the smartest business strategies there is.
So, how do you make sure that this essential relationship continues?
One way to do this is by focusing your efforts on customer appreciation. While providing great service and a strong product are important, these things are really the bare minimum when it comes to customer retention.
Making customers feel valued, showing your gratitude and thinking of unique ways to make their day is ultimately what leads to the strong sense of brand loyalty that businesses dream of.
What Is Customer Appreciation?
While the official Customer Appreciation Day is on April 18 every year, the need to integrate this philosophy into your business reaches far beyond a 24-hour timespan. Customer appreciation is all about showing gratitude for the people who are supporting your business.
It goes beyond simply saying "thank you" at the end of the transaction, and instead blends into action items that truly delight your patrons so they keep coming back.
Why Is Customer Appreciation Important?
Unless you are in a highly specialized industry, customers typically have a lot of choices for where they can spend their money—so them choosing to spend that money with you really is an honor. Customers choose the brands they shop with for a variety of reasons, but recently, consumers have had a concentrated interest in patronizing the brands they feel connected to.
That is why savvy brands are making sure that the relationship is reciprocal!
Making sure your customers feel appreciated and valued by your brand is a smart strategy for retaining their business and keeping them highly engaged. Below, we have some of our top tips for how brands of any kind can be sure they are doing just that.
Ideas for Customer Engagement
Offer a birthday discount. Who doesn't love a little bit of birthday cheer? If you are anything like us, you probably watch your inbox like a hawk around your special day—discounts are always welcomed! Celebrating birthdays is an exciting thing, and there is no reason why you can't use this as an excuse to give your customers a little bit of joy in the process. Offering discounts is a great way to boost your chance of conversion (by quite a bit, according to a recent survey by Experian) and say "thank you" to your customers for sticking around on your email list.
Top Tip: The way you offer a discount matters, for you and for the customer! Offering something like a percentage off a purchase over a certain amount (15% off a purchase of $30 or more, for example), a buy-one-get-one style deal or a free bonus with a specific purchase will likely see the best return for your business.
Start a loyalty program. Loyalty programs are one of the best ways that you can show your regular and repeat customers your gratitude! In a recent study, it has been found that the average repeat customer will spend 67% more in months 31 to 36 than they do in month zero to month six—but getting them to be a customer with you for more than two years can be the tricky part. With a loyalty program, customers are more incentivized to become regular shoppers with your brand and can reap the rewards of their loyalty.
Top Tip: Loyalty programs can be used in all sorts of ways! Getting a free drink after 10 purchases, 10% off after a certain amount is spent or a free item after a set number of transactions can all be creative ways to begin implementing this perk.
Team up with local charities and organizations. Community involvement is good for any business, and donations or other type of philanthropic actions are a great way to bring everyone together. Choosing to get involved with an organization that your customers care about, such as a running shoe charity for an athletic store, or a pet rescue organization for a grooming salon, can help you and your customers give back in a way that benefits everyone.
Top Tip: You can get creative with charitable giving! Whether you have specific days where a portion of the proceeds goes to a certain charity, have all the proceeds from a certain item go towards an organization or do special showcase days where you have charities come set up on the premises, there are a lot of fun ways you can team up with your customers and your community to give back.
Do exclusive sales and promotions. Everyone likes to be part of an exclusive offer, so providing specific sales to your loyal customers is a great way to increase engagement and showcase your thanks, too. These sales can be set up for any customer that has made a past purchase, or go to your longest-running or most loyal fans—however you decide to do it, your fan base is sure to appreciate the extra savings.
Top Tip: Using email segmentation or social media is a great way to spread the word about these types of promotions. Sending the news out to email subscribers that have made a purchase in the past year, or running a "Facebook Special" that is only posted to your followers are both smart ways to keep this type of promotion delegated to a specific group.
Feature customer stories. While you likely know your business inside and out, the people who know the true impact of your business the best are the people interacting with it: your customers. Featuring customer stories and testimonials on social media can show as social proof to potential patrons who may be on the fence, and gives you the opportunity to gain valuable feedback from people in the community.
Top Tip: Making your reviews into graphics to post on Facebook is a smart way to feature these reviews and give your social content a boost—it's a win-win!
If you would like to learn more about how to engage with your customers online and off, we would love to chat! Our social media services are a great way to keep in touch with those that matter most. Contact us today.