The 10 Characters of Christmas—Social Media-Style! | Social Joey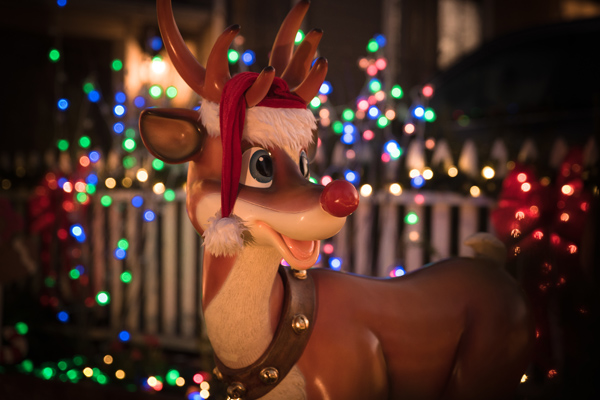 🎶 You better watch out. You better not cry. You better not pout—I'm telling you why. Facebook and all the other social media platforms are making a list and checking it twice! 🎶
The days are winding down in 2019, and for those of us in the marketing world, we've been spending tons of time staring at a computer screen and innovating the latest and greatest ways to get our share of the holiday spend.
If you're like our team at Social Joey, so much screen time and posting about the holidays may have you dreaming of computer screens and Facebook posts in your sleep.
Add in some hot cocoa and a few too many Christmas cookies…and you may just find yourself like we did the other night, bringing holiday characters to life as social media platforms!
Join us in our whimsical dreams…
Facebook = Santa Claus
There is no denying that if Facebook was a Christmas character that it would be Santa Claus. Facebook really does know when you are sleeping, and it knows when you're awake.
How else would it know about the late-night spending spree you went on yesterday looking for holiday gifts? Or that you jumped down the rabbit hole of looking up information for an upcoming trip to Disney World?
Sometimes it can even seem like dear old Santa…or Facebook…knows what you're thinking even before you do.
Twitter = The Grinch
From jolly old Saint Nick to…the Grinch?
Just as the Grinch wants very little interaction with the cheerful folks down in Whoville, Twitter is a social media platform that allows people to be heard and keep tabs on what's going on in the world without having too much social interaction.
If you're a man of few words—or at least a man of few cheerful words—Twitter's your platform, since you literally can't say more than 280 characters. And it's all about the art of the short and succinct utterance—#hatehatehate or #makewhovillegreatagain or #bleedingheartsunite, anyone?
Instagram = Rudolph
🎶 Rudolph with your nose so bright, won't you guide my sleigh tonight? 🎶
Rudolph leads Santa's sleigh with a nose so bright—and Instagram leads all social media platforms with some shiny stuff of its own. Did you know that user engagement on Instagram is 58 times higher than what it is on Facebook?!
After a hard day at work or school, some of us just want to look at the pretty pictures! So Rudolph, aka Instagram, leads the way to social media success for businesses with an aesthetically pleasing product or service to sell.
(But if you're posting a pic of your own on Instagram, you probably want to powder that nose first…no one wants a nose like Rudolph's! 😂)
YouTube = Kevin McCallister from "Home Alone"
Kevin!
Let's face it—the year the movie was made, Kevin McCallister learned the power of video, which is much like YouTube.
YouTube has the "Stand back, and watch this" attitude, much like what Kevin had when protecting his home from Harry and Marv. Or you could even argue he had that same attitude with his family!
Pinterest = Mrs. Claus
You know Mrs. Claus would be the first to teach you how to make a napkin into a swan or how to create the perfect cup of hot chocolate with a touch of holiday magic! As a result, could there be a better Christmas character to represent Pinterest?
Need to know how to cook your first Christmas dinner? Need some inspiration for DIY stocking stuffers? Need to find some quotes to put on your Christmas card? Need to know how to get that stain out of Santa's suit?
Look no further than Pinterest…Mrs. Santa Claus, at your service!
Elf on the Shelf = Google My Business
When your child wakes up each day in December, who does he or she go looking for? The ubiquitous Elf on the Shelf!
So how does that relate to social media? Well, when it comes to Google My Business, people really only "stumble" on this page if they're looking for it—much like the Elf on the Shelf.
In addition, like "big brother" Google always watching you to decide how your business should rank, the Elf on the Shelf is always watching to make sure you are on your best behavior for Santa.
So, you better be on your best behavior for both Santa and GMB!
MySpace = The Ghost of Christmas Past
Oh, MySpace. Need we really say more? This character from A Christmas Carol and this long-ago social media platform have a lot in common.
Depending on when you came of age, you may have some fond memories of time spent on this ghost of social media past…or you may have some things that are better off left in the past!
Frosty the Snowman = Snapchat
🎶 Frosty the snowman knew the sun was hot that day. So he said, Let's run and we'll have some fun. Now, before I melt away! 🎶
Here and then gone in a flash…that's Frosty to a "tee" And that's also the perfect description of a "Snap."
Just like Frosty the Snowman is only around for a little bit to laugh and play, so is the Snapchat message or video! But you never know the kind of mischief he's going to get into before he melts away.
Buddy the Elf = TikTok
"I like smiling. Smiling's my favorite."—Buddy the Elf
TikTok is a crazy, crafty social media platform that has a goal to make the day of the people watching, much like Buddy the Elf! There is nothing too "extra" for TikTok—the crazier, sillier and more extravagant the video, the more traction it will get.
At TikTok, the goal is to make you smile through lots of crazy videos, as well as the use of lots of stickers, GIFs and friendmojis. Sounds a little Buddy the Elf-like, don't you think?
Santa's Reindeer = LinkedIn
Have you ever thought about the fact that Santa's reindeer are really one big network? They're all about the power of connection to get things done.
We wonder if this magical team of reindeer didn't "link" up on LinkedIn before joining together with Rudolph to save Christmas. 🤔 If Dasher, Dancer, Prancer, Vixen, Comet, Cupid, Donner and Blitzen don't work as a team, then the job of visiting every house by Christmas morning won't happen!
Ready to harness the power of some of these characters when it comes to your 2020 social media marketing efforts? Contact our team at Social Joey today to learn how we can spread a little holiday magic throughout the year!