The Back-to-School Season Is Different This Year. Is Your Business Poised for Success?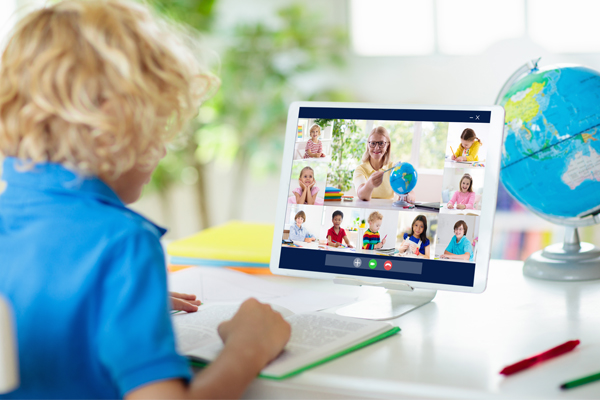 School districts across the country will be headed "back to school" in the next few weeks. In comparison with past years, what that looks like for students, parents and teachers will be very different.
If we've learned anything this year, it's that pivoting is sometimes necessary to continue on a successful path. That's true whether we're talking about our personal lives, parenting or the work we do.
And that's definitely true of this year's back-to-school season! Is your business or franchise ready to take on the challenge—and opportunity—of a brave new school world?
Read on as our Social Joey team shares some insight about how this back-to-school season will look different and what your business can do to seize the day!
What's Changed?
That question may seem like a duh. But while we're all fully aware of how the world has changed over the past four months, most of us haven't thought a ton about how it will affect our businesses this back-to-school season.
But it's an important question to ponder. Let's first think about the obvious—some kids will be back in an in-person educational setting, some kids will be learning virtually and some kids will be doing both.
Depending on what school looks like for kids in your area, that will mean a new and revised set of "school supplies."
It's also important to consider the new protocols and procedures that will be in place even if children return to an in-person classroom. In most places across the country, the community spread of COVID-19 has led to the mandated use of face coverings when in public. That requirement often extends to the classroom, for both students and educators.
That makes masks a new addition to the school supply list for 2020. The same goes for hand sanitizer—while usually on a basic supply list, the need for this important hygiene staple is even bigger this year.
New Horizons for School Supplies
So, what does this all mean for your business? Well, that largely depends on what your business or franchise already offers!
If you've long been in the business of offering basic school supplies such as markers, notebook paper and glue to your community, it's time to expand your footprint.
Thoughtfully consider the new needs parents will have and consider adding those items into your offerings. Masks and hand sanitizer are two items that are fairly easy to stock—and adding them to your shelves alongside normal school supplies means that parents can make a one-shop-stop to grab it all.
It's also important to think outside the box of what's normally needed for kids in a classroom setting—and to instead think of what will be needed to set them up for success learning virtually.
That could mean stocking up on items such as computers, tablets, printer paper, laptop desks, headphones and even blue light-blocking glasses. While these aren't headliners in a normal school year, we aren't in a normal school year!
Pivoting to Take Advantage
Obviously, not every business normally grabs market share during the back-to-school season. But when going back to school looks so incredibly different, there are new opportunities to jump in the game.
We've outlined some potential items to stock up on above, but you can also think even further outside the box. Tutoring services, recreational opportunities for kids, fitness supplies for at-home PE and even meal delivery may have a role this back-to-school season.
Think through it carefully: What can your business offer to parents, students and teachers that is within your business wheelhouse? Anything that will make the return to school—which this year is fraught with tension and worry—less stressful will be a value-added for your customers and potential customers.
Add-ons That Make a Difference
While it's definitely important to leap into offering products or services targeted to this year's back-to-school season, it's also important to remember that your business needs to carve out a place in your community.
You want people within your community to come to recognize your business or franchise as a genuine part of the community. To come to think of you as neighbors.
We've talked before about how your marketing strategy plays a key role in helping establish your business in the community. It's important to take the opportunity often to make your "face" known and your "voice" heard within your neighborhood, city, county and region.
But you also have a valuable opportunity now to carve out a bigger place in the community—and get your brand out in front of people at the same time.
Face coverings are a necessity these days, and likely will be for months to come. Why not print up a batch of masks with your logo or business name on one side and the local school mascot on the other? Hand them out in store to customers who stop by, hand them out on service calls, advertise their availability on your website and social media, and even provide them to the local schools.
Free PPE in the middle of the pandemic? That's a huge value-added.
You can also show that you're actively engaged in your local community by keeping an eye on services, programs and information that may be of benefit to your customers related to school. Printing up or posting about information related to school-provided meals and other basics can help parents and teachers more easily access the details they need.
A New Look for Back-to-School Deals
If your business is usually in the game when it comes to back-to-school season, this year may be par for the course for you. You're accustomed to offering money-saving deals this time of year, so that's not new.
But what you may want to think about is the fact that customer expectations have shifted this year. It's no longer enough to offer the items they need in store. As a result of the pandemic and the need to avoid close contact with others, we've become accustomed to add-ons such as curbside pickup and even delivery.
Offerings of that sort that make getting items easy and seamless will be absolutely essential this year, since many people are turning to online stores to quickly get the items they need. They need a reason to choose your store over a big-box online retailer.
For businesses that don't offer school supplies, even with the expanded list needed this year, you can still acknowledge the back-to-school season and grab your customers' attention.
Drop in some offers alongside your normal services or products. "Buy four new tires, get a free iPad for your student," for example. Or "online classes aren't always the easiest, let our learning center help you get set up."
Think of it as a subtle way to say, "We support our students and their safety," without actually stating that in your ads. Helping people within your community get set up for academic success this year by providing them with help to stay safe or facilitate learning will speak volumes about your business. Actions speak louder than words, after all.
Need help getting your back-to-school messaging out in front of your audience? Let our Social Joey team work some magic for you! Get started today.