What We're Reading... | Social Joey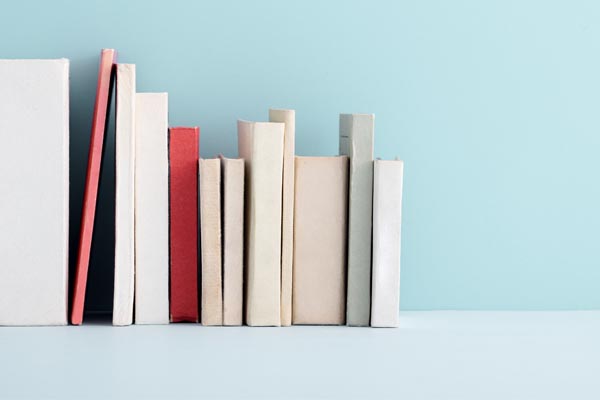 Dr. Seuss had it right—"The more that you read, the more things you will know. The more that you learn, the more places you'll go."
Here at Social Joey, no matter what role we're in, we're all creatives. Our creativity may be in the realm of words, images or marketing, but the bottom line is: Creativity is at the heart of everything we do.
How do we stay on our A-game? Well, for many of us, reading helps stimulate the brain and keep those creative juices flowing.
Want to take a peek into what we're reading and why? Read on!
The Books on Our TBR (To Be Read) Pile
If you've ever interacted with those on the Social Joey team, you know that we're quite the collection of individuals! Nowhere is that perhaps more evident than in what we're reading.
Amanda McDowell, writer and ads specialist—"World Travel: An Irreverent Guide" by Anthony Bourdain
"I love reading books that expand my worldview and teach me about different cultures and customs throughout the world. As a bonus, it inspires me to get creative with my own cooking at home!"
📍 "World Travel" was released earlier this year in a posthumous publication of Bourdain's guide about traveling the world. The extensive guide, which spans 43 countries, was completed by his assistant, Laurie Woolever. It encompasses both Bourdain's own words as well as insights from his friends, colleagues and family.
Angela Williams, editor—"Just Mercy" by Bryan Stevenson & "Eli's Promise" by Ronald Balson
"I watched the movie based on this memoir a year ago and was incredibly touched by the story. I'm now reading the memoir itself, which touches on other stories and provides a detailed look at the criminal justice system. I'm also listening to an audiobook by Ronald Balson, who writes incredible novels set during World War II and thereafter.
📍 "Just Mercy" is the true story of the Equal Justice Initiative, an organization dedicated to ending mass incarceration and challenging racial injustice. It outlines the experiences of Bryan Stevenson, the founder of the EJI, and his representation of multiple people wrongfully sentenced to death.
📍 "Eli's Promise" is the latest in Ronald Balson's collection of World War II novels. It tells a story that begins in a Polish town during WWII and continues years later on a quest for justice.
Brittan Taylor, designer—"The Wicked Years" trilogy by Gregory Maguire
"I'm reading this—again! I'm obsessed with the story line and I always find something new."
📍 This trilogy is a revisionist take on the "Oz" books by L. Frank Baum. The first book in the trilogy, "Wicked," spawned a hit Broadway musical, and all three books follow the story of the Wicked Witch of the West.
Ken Douglas, sales professional—"True Believer" by Jack Carr
"This is an international espionage thriller. He's a great suspense writer, and 'justice is always served.'"
📍 "True Believer" is a followup to Jack Carr's first book, "Terminal List." The book is an intense political thriller, following the latest adventures of fictional former Navy SEAL James Reece and his efforts against terrorism. The author is a former Navy SEAL himself.
Rob Alley, writer—"How to Fight Racism: Courageous Christianity and the Journey Toward Racial Justice" by Jemar Tisby
"This is a topic that breaks my heart, and it's important to me to see my own blind spots regarding race and prejudice, and to know what I need to know to actively be part of the healing that needs to occur."
📍 "How to Fight Racism" discusses one of the most pervasive problems of our time in a new light—how it can be battled by Christians. The book uses real-world examples to provide readers with an actionable guide toward making impactful change. This solution is rooted in what Jesus taught his followers, allowing today's Christians to view racism through that lens.
Samantha Serum, editor—A revolving list
"You can't ask an English teacher that question! I am currently reading "Good Harbor" by Anita Diamant, "The Ragamuffin Gospel: Good News for the Bedraggled, Beat-Up, and Burnt Out" by Brennan Manning and "Cane" by Jean Toomer. I am usually reading a fiction book of my choice, a nonfiction book and a YA book at any given time."
📍 "Good Harbor" is a novel that weaves a story about friendship between two women. One woman is dealing with a diagnosis of breast cancer while the other is also in a place of fragility and in need of support.
📍 "Ragamuffin Gospel" provides a user's guide to handling some of life's most common feelings these days—being beat up and burnt out. Brennan Manning shares how to lean in to God's freely given grace, basking in the joy of the gospel.
📍 "Cane" is a beautiful literary masterpiece from the Harlem Renaissance, first published nearly 100 years ago in 1923. The fictional book weaves together stories about Black life in the South, painting a realistic and eye-opening picture.
Savannah Nance, designer—"Buy Yourself the … Lilies: And Other Rituals to Fix Your Life, from Someone Who's been There" by Tara Schuster
"It's an encouraging book to be yourself, advocate for your happiness and do things that allow you to foster success and stop standing in your own way."
📍 "Buy Yourself the Lilies" shares the perspective of Tara Schuster. Schuster began her professional life as a TV executive on the rise, but was hiding a secret—she was covering up intense anxiety and other mental health struggles brought on by her work. This book prescribes how to keep your life in balance with radical self-care.
Valerie Macht, designer—Agatha Christie novels
"I enjoy reading and collecting Agatha Christie novels. I like the storylines and characters that she creates, and mystery is my favorite genre."
📍 Agatha Christie is the best-selling novelist of all time, author of 66 detective novels and 14 collections of short stories. Altogether, her books sold over a million copies in English and a billion in other languages—outsold only by the Bible and Shakespeare's works.
You've learned about the masterpieces we're reading—now get in touch to learn about the social media masterpieces we can create for your business! We're ready and waiting to hear from you.